What are Managed Maintenance Services and what does it mean for you?
Our managed maintenance plans work in the background on your PC, cleaning your file systems, protecting it against threats and intrusions, and if you choose, creating regular backups of your files either to a local drive, or to our secure offsite location, all without interrupting the use of your computer.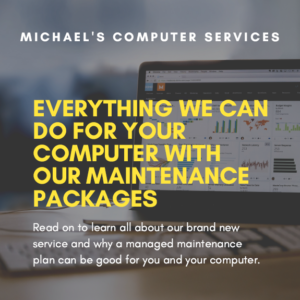 How managed maintenance works:
A tiny program is installed onto your computer that continually monitors its software and hardware components. It also allows "remote login" (with your permission)* so that problems can be dealt with quickly.  * Live remote support is billed separately
Items monitored include CPU performance and temperature, hard drive performance, temperature and capacity, file system fragmentation and overall health, memory usage and performance, antivirus/anti-malware status, installed drivers, firewall status, BSOD (Blue Screen Of Death) errors, application crashes, Windows update status, and more.
Also, by including our antivirus option, our maintenance plans become a comprehensive package, replacing your existing antivirus, and saving you money on extra subscriptions.
What it doesn't do:
Although many problems can be fixed by being managed, not all issues can be resolved this way. Failed internet connections, damage from storms/electrical surges, email provider issues, dead power supplies, etc. may still require a visit to our workshop, or your home or business for repair. In such cases a discounted workshop rate applies.
"Monitoring" your computer does not mean that our technicians are able to view your emails, websearches, hard drive contents, personal files or folders at any random time. Our managed maintenance service is strictly for monitoring and addressing issues detected at the operating and BIOS system levels (ie, the running gear of your computer). We do offer a real time remote support service, where one of our technicians remotely accesses your PC to fix software issues. This remote support requires your permission each time before access is available to us.
Is my computer compatible? 
Our maintenance plans can be run with any Windows PC or laptop running Windows 7 SP2, 8, 8.1, 10 and 11, and MacOS 10.15 and up. Currently Linux, and mobile devices are not compatible.
How much does it cost?:
Basic Maintenance Plan   —–   $15/ month
Weekly maintenance runs at a convenient day/time
Temp file removal and disk cleanup
Browser cache and extension check and optimize
Windows updates check and installation
File system integrity scan and defragment
Windows startup routine check and optimize
HDD, memory and video integrity check
Applications check and update as needed
Full malware/virus scan and removal (using your existing AV)
Basic Plus Maintenance Plan  ——  $20/ month
Everything in basic maintenance plan, with virus scan by our antivirus
Emsisoft Anti-Malware Full Protection, installed and managed by us
Extended Maintenance Plan   ——   $30/ month
Everything in basic maintenance plan
Weekly data backups to secure off-site storage servers we manage
Ultra Maintenance Plan   ——  $40/ month
Everything in basic maintenance plan
Weekly data backups to secure off-site storage servers we manage
Emsisoft Anti-Malware Protection, installed and managed by us

NOTE: Listed plan pricing is for 1 computer, and includes GST. Plans are on month to month basis,
and can be changed at the end of any month. Plan cancellatons require 7 days notice in
writing. Computer upgrades, support requests, or issues outside of plan maintenance scope
will be charged extra but at discounted hourly rates. Using Emsisoft Anti-Malware Protection removes existing malware and antivirus software, keeping costs down

Click here to sign up for one of our managed maintenance plans!